A TRADITION OF INDUSTRY FIRSTS.
A LEGACY OF SAFETY, QUALITY & INNOVATION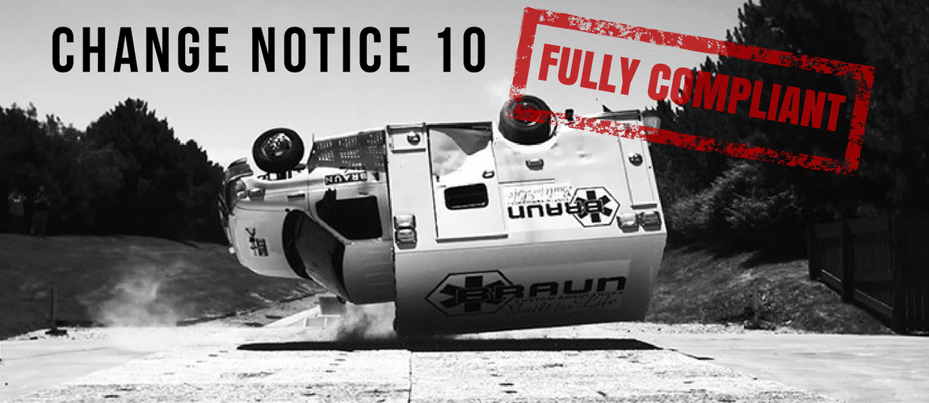 Nowadays, it seems like every ambulance manufacturer is leading with safety. And while that's great for marketing, it's important to have the testing and data to back up those claims. At Braun, we've had a long-standing commitment to safety, quality, and innovation, which has pushed us to achieve many industry firsts.
We are proud to announce our ambulance models are fully compliant with Change Notice 10.
SAE Test J3057 - Ambulance Modular Body Evaluation

SAE Test J3058 - Ambulance Interior Storage Compartment Integrity

SAE Test J3102 - Ambulance Patient Compartment Structural Integrity
As ambulance safety standards evolve, we remain committed to their advancement and industry wide adoption. We will challenge ourselves and our competitors to improve by delivering the safest ambulance models on the road.
Why does this matter to you?
SAE J3057 - In the event of a crash, you want quick exit from the module. This test confirms you can safely exit the vehicle through any door. At Braun, we tested our module to the required 35,000 lbs and then retested it to the equipment limit of 150,000 lbs. We exceeded the requirements by nearly 500%. Occupant safety matters.
SAE J3058 - As you know, your rig holds a lot of supplies and equipment in the interior cabinetry. If it's not properly secured with quality latches, hardware, and faces, the items inside can become projectiles. We have tested our cabinetry to CN10 requirements and confirmed everything will remain just where it should in the event of an accident.

SAE J3102 - On the interior of an ambulance, items are secured to the floor - the most important of these being the patient cot. We have tested the structure and integrity of our flooring to ensure SAE J3057 compliant litter retention systems stay securely mounted in the event of a crash.

To learn more about Change Notice 10, we encourage you to contact us.