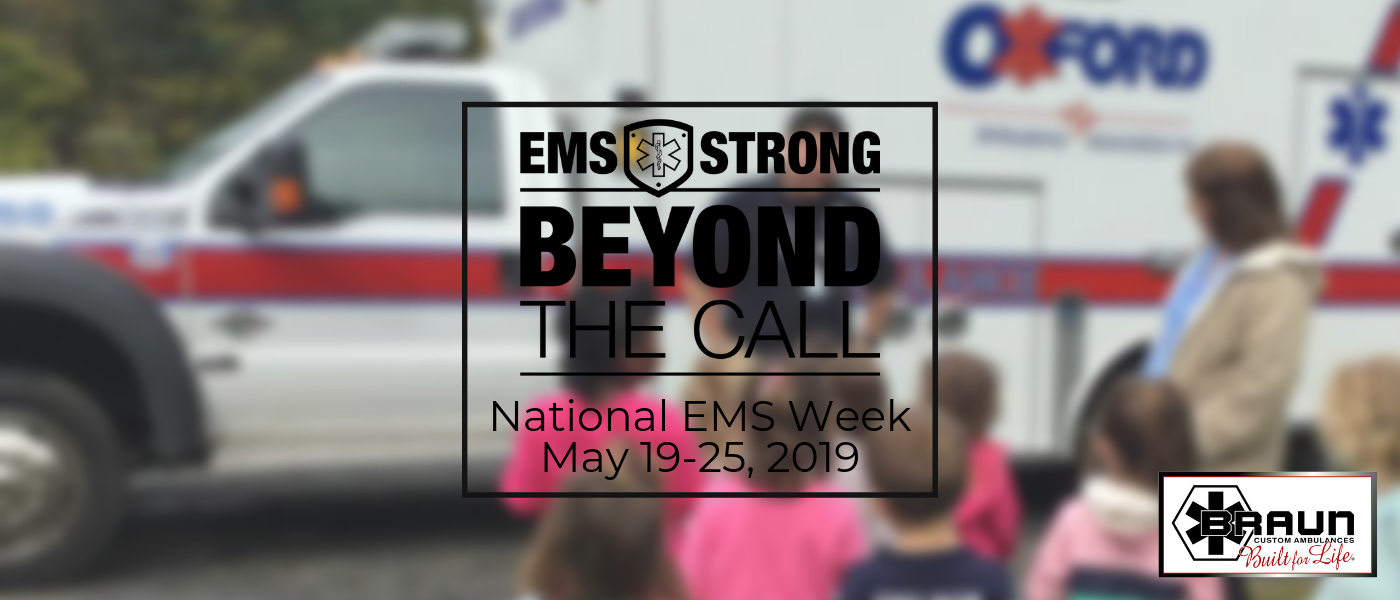 Braun Ambulances will be celebrating National EMS Week May 19-25th. This year's theme is "Beyond the Call," which highlights the amazing ways EMS professionals go above and beyond to help their agencies, their patients, and their communities. At Braun, we know the importance of EMS providers who care, so we're excited to celebrate them during National EMS Week.
Each year, EMS Week is celebrated in the third week of May. In the early 1980s, the ACEP (American College of Emergency Physicians) began collecting and distributing ideas and information for EMS Week. The ACEP printed, prepared, and distributed EMS Week planning kits; currently, about 25,000 EMS Week Planning Guides are distributed to EMS Services, fire departments, rescue squads, volunteer groups, and emergency departments across the United States, free of charge. They are distributed by the ACEP and the National Association of Emergency Medical Technicians (NAEMT). Each year, these guides contain ideas for local activities in celebration of EMS Week and highlight the programs that were hosted the year before. To view the 2019 guide, click here.
EMS Week 2019 has an overall theme of "Beyond the Call," with daily themes that include EMS Education Day, Safety Tuesday, EMS for Children Day, Save-A-Life (DPR and Stop-the-bleed) Day, and EMS Recognition Day. These themes serve as a reminder to celebrate those who serve us, but also to help them stay up-to-date on the newest trends in provider care.
Braun Ambulances will celebrate by accepting submissions from our extended Braun family of departments/customers that highlight the way their crews go "Beyond the Call." To enter, submit a photo of an EMS professional you know and tell us why or how they go beyond the call! With your submission, please include your name, the name of the provider you're nominating for recognition, the department name, and a few sentences as to why you think they deserve recognition. It can even be you!
Submit your nomination(s) on any of Braun's social media accounts, or email it to social@braunambulances.com. Each day, we'll choose one submission to win a Braun promotional prize pack! The prize pack will include goodies like a Braun t-shirt, can koozie and more – and you'll get 2 of each item! One set for you and another for the outstanding EMS professional you nominated. The deadline for submissions is May 17, 2019.
Celebrate National EMS Week with us and show us how you go "Beyond the Call!" We can't wait to celebrate all our amazing customers and Braun employees who double as first responders.