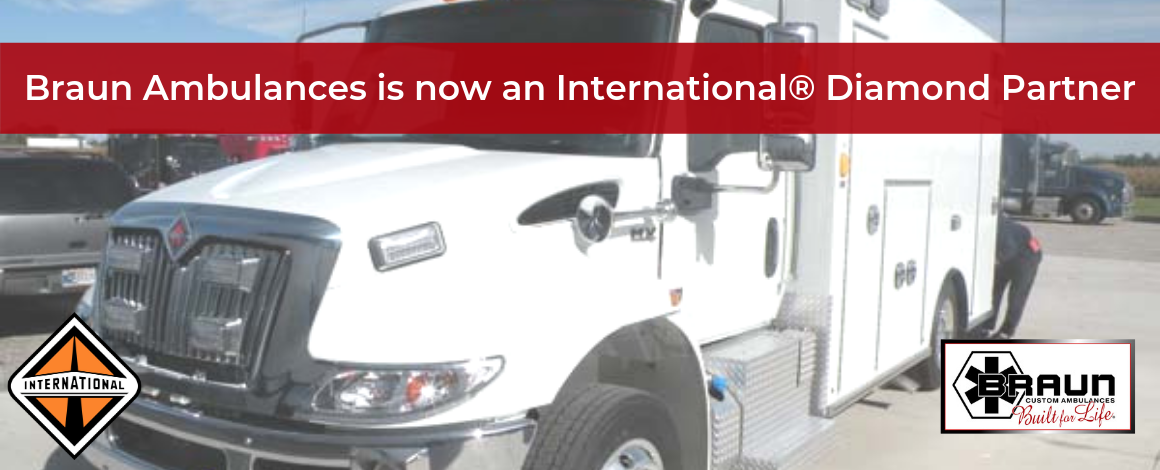 In March, International® trucks announced its new Diamond Partner Program. This program is designed to streamline the specification and upfit process between International's dealer network and truck equipment manufacturers. Braun Ambulances is proud to be one of the 50 participants in this new program!
With this new program come a host of benefits for Braun and for our dealers, including cross-functional reviews of the equipment manufacturer's chassis specifications to remove cost, access Navistar's Diamond Logic® system training, assigned applications engineers, technical support, and much more. This free program aims to help refine the details of work trucks sales for the end customer, allowing International to work directly with many dealers.
For Braun Ambulances and their dealers, this means that our customers are getting more of what they're asking for: access to more dedicated resources for mechanical and electrical features. International's Diamond Logic® electrical system integrates with their trucks to deliver custom solutions that our end customers have been asking for, like load management, light flash patterns, and load sequencing. When the chassis is ordered through one of Braun's dealers, that dealer is also granted access to the additional resources provided by International, ensuring that the technicians are up to speed on what the customer wants.
"At Braun, our motto "Built for Life," has a dual meaning: our ambulance body has a lifetime warranty, but we also build our ambulances with your crew and patients in mind," says Rob Sherer, Braun's SCM Sourcing Specialist. "We want to make your crew's job a little easier, and we want to do our part to make sure your patients are getting back to their everyday lives with minimal interruption. Our partnership with International and the Diamond Partner Program means we are able to provide your department with the most up-to-date technology in the field, making life a little easier for everyone."
For more information on the International Diamond Partner Program and how it might affect you, contact us today!