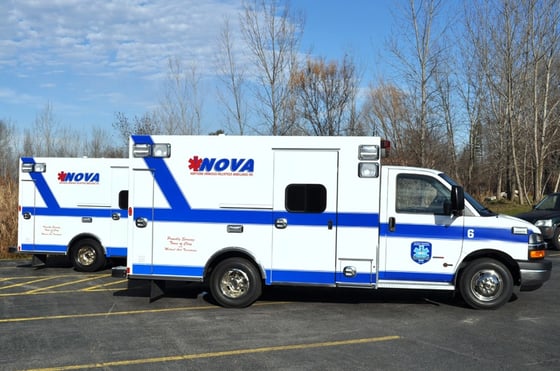 Here at Braun Industries, we are consistently delivering custom "Built for Life" ambulances to customers around the country. Through our extensive ambulance dealer network, we are able to meet the needs of first responders anywhere in the US - and even beyond. Recently, we had the pleasure of working with Northern Onondaga Volunteer Ambulance, Inc. of Liverpool, NY in conjunction with North Eastern Rescue Vehicles.
NOVA (Northern Onondaga Volunteer Ambulance) recently received a Braun Express Type III ambulance on a Chevy G-4500 chassis. A gallery of their Braun Express ambulance can be seen on our website. This was their first Braun ambulance; they will be receiving another soon.
New to Braun ambulances, NOVA Executive Director and Paramedic, John Marko, has the following to say about working with North Eastern Rescue Vehicles and Braun Industries:
What has your experience been working with your local dealer, NERV?
The entire staff with North Eastern Rescue Vehicles is consistently responsive, they're customer service oriented before and after the sale and not to mention, always reliable and true to their word.
What has your experience been working with Braun in relation to customer service?
Sincere and very accommodating - over-the-top. It's evident that customer service is #1 with Braun from every level of their business.
What specific feature do you like most about your Braun ambulance?
Consistent build quality and knowing that it's one of the safest ambulances to work in.
What are three other benefits about your Braun ambulance?
Best ride of any ambulance out there, attention to detail, and customization in build to meet our needs.
How, specifically, did your Braun ambulance change the way you provide services in your emergency vehicle?
Ride comfort for the patient and crew. No other ambulance can compare to the ride and handling of Braun.
What would you say to another organization who was thinking of investing in a Braun?
The Braun ambulance speaks for itself. There's no other vehicle out there built as well...and they would, of course, be more than welcome to look at ours. Out of all the many ambulances I've worked in during my nearly 30 years in the business, the Braun always comes out on top as the best for many proven reasons.
Do you have any other additional feedback on working with Braun Industries?
Overall, it's been a pleasure to work with everyone from Braun. The Braun family of employees are dedicated and committed to building a high quality ambulance. Their customer service is exceptional. Everyone from Chad Brown, Kim Braun, Troy Miller, and Penny Richardson are truly a great group of people. The tour of the Braun facility was very impressive from every level – work ethics of their employees, advanced technology, cleanliness of their facility, final inspection process, and overall customer service.