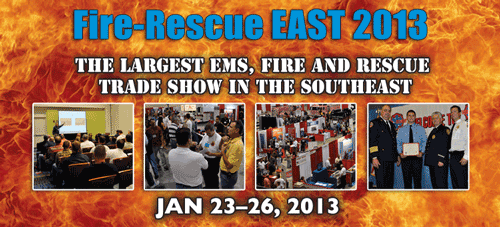 While the tradeshows quiet down in December for the holidays, they are in full swing again by the end of January. The largest EMS, fire and rescue tradeshow in the Southeast is Fire-Rescue EAST. This year, it will be held January 23rd - 26th at the Ocean Center in Daytona Beach, Florida.
Braun is particularly excited for this show because our emergency vehicles will be featured in the Ten-8 Fire Equipment Booth. Ten-8 Fire Equipment is our ambulance dealer for Florida and Georgia. They are also a Braun Authorized Service Center. Ten-8 features the largest booth at the Fire-Rescue EAST show!
On display, Ten-8 will be exhibiting Braun ambulances, along with Pierce fire trucks and equipment from MSA, Fire-Dex, Elkhart Brass, Key Hose, TNT Rescue Tools and Crew Boss Wildland Gear. You can find them in booth numbers 1101 and 1305. Representatives from the ambulance dealership and Braun Industries will be on hand to answer all of your questions about our emergency vehicles and the other lines Ten-8 carries.
Fire-Rescue EAST, also known as FRE, is sponsored by the Florida Fire Chief's Association. The event includes a wide variety of educational opportunities including an FFMIA Training Program, DOH EMSAC meetings, EMS Training, Haz-Mat Training, FASAR/USAR Training, a PIO Symposium, and the Emergency Services Leadership Institute. During the conference, the trade show and exhibitor booths will be open on Friday, January 25th from 10:00 am to 4:00 pm, and January 26th from 9:00 am to 12:00 pm.
Don't forget to stop by Booth #s 1101 and 1305 to get a tour of the Braun ambulances on display!
More information on the event can be found on the Fire-Rescue EAST website.