At the end of the month, we're hitting the road to catch up with existing customers and meet new ones at the IAFC's Annual Conference & Expo. This year, FRI 2015 is being held at the Georgia World Congress Center in Atlanta, Georgia. Representatives from Braun Industries and our dealer network will be there August 28th - August 29th. Plan to stop by booth #2123 and visit us - and RSVP on our Facebook event!
Fire-Rescue International has been providing senior-level leadership training to fire chiefs for over 140 years. Put on by the IAFC, a leading, expert organization serving the first responder community, FRI is always a much anticipated event. 2015's Expo will debut many new things, including improved education tracks and programs, the latest in research studies, unique networking events, a silent auction, blood drive, and more.
Visitors should plan to visit the exhibit hall during open hours to meet with Braun representatives in Booth #2123. Chad Brown, Eric Wilcox, and Jarret Hammons will be there from Braun direct. We will also have members of our national dealer network in attendance, including representatives from Ten-8 Fire Equipment, Emergency Equipment Professionals, Lone Star Emergency Vehicles, Glick Fire Equipment, and Hughes Fire Equipment. Two customer ambulances will be on display, a 2014 Chief XL and a 2014 Chief.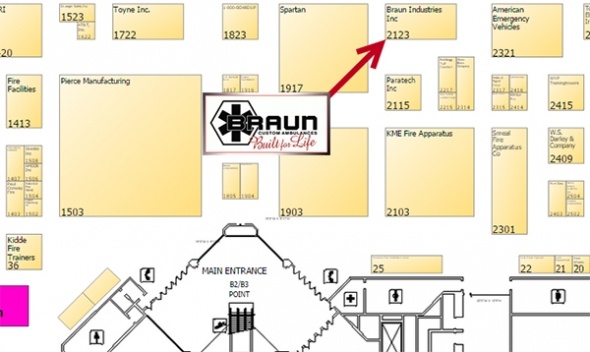 Exhibit Hall hours are:
Friday, August 28th - 10:00 am – 5:00 pm
Saturday, August 29th - 8:30 am – 1:00 pm
St. John's Fire/Rescue in Augustine, Florida has lent us their 2014 Chief XL ambulance on a 2015 Ram 4500 chassis to display at FRI 2015. Manufactured with Braun's signature SolidBody™ Construction, the vehicle features much more than the standard innovations we're known for. It includes a front mounted condenser, transverse backboard storage, pull out 02 storage for dual "M" tanks, SCBA storage, and a custom interior design to accommodate all the equipment. It also has a temperature cooled compartment and 110/12V combination heat/ac system to enhance module comfort.
We are also very thankful to Temple Terrace Fire Department in Temple Terrace, Florida, for letting us show off their 2015 Super Chief Ambulance built on a 2015 Freightliner M2 extended cab chassis. The chassis features roll up doors for gear storage and an external electrical compartment. Inside the module, there is a flip down CPR seat for extended counter space and custom interior design. It also includes a temperature controlled compartment, as well as the many standard innovations Braun is known for.
If you're planning to attend FRI 2015, don't forget to stop and say 'Hi'! We'll see you in Booth #2123!