January marks the beginning of another year of shows for Braun Industries, kicking off with Fire-Rescue EAST in Daytona Beach. A few days later, you can find Braun ambulances on display at the 2013 Working Together Emergency Services Midwest Conference & Exposition sponsored by the Wisconsin EMS Association and LifeQuest Services. This event will take place January 30th through February 2nd at the Delta Center in downtown Milwaukee.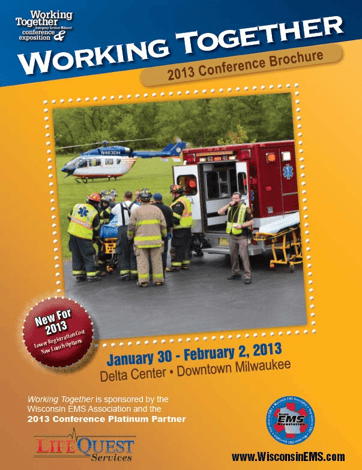 Click on the brochure for conference details.
On average, over 2,500 participants from 550 organizations take part in the annual Wisconsin EMS conference each year. The event brings together educators from across the nation to provide over 50 EMS-related sessions and topics over four days. There are also a variety of firefighting and rescue operations, plus sessions for department leaders and officers, educators, first responders and more.
The exposition hall at the conference spans 90,000 square feet and includes over 150 companies. North Central Ambulance Sales & Service will be the Braun ambulance dealership in attendance. North Central represents Braun in Minnesota, North Dakota, South Dakota, Wisconsin and counties in Iowa and Illinois. They are also a Braun Authorized Service Center.
From the dealership, Andy Heimerl, Fred Pawelk and Bob Baxa will be on hand to answer all of your emergency vehicle questions. The dealership has been participating in the show since the late 1980s. They will have a Braun Chief XL Type I ambulance on a F-450 chassis on display. Booth numbers have not year been announced; stay tuned to the Braun Ambulances Facebook page for updates as the show nears.
We hope you will stop by and visit North Central Ambulance Sales & Service if you're in attendance!