Each year, Braun Ambulances is honored to sponsor the NAEMT EMT of the Year Award, in conjunction with NAEMT and EMS World. This year, recipients of the 2017 National EMS Awards of Excellence were recognized on October 17 at NAEMT's General Membership Meeting and on October 18 at EMS World Expo's opening ceremony in Las Vegas, Nevada.
Braun Industries was honored to award the title of 2017 NAEMT EMT of the Year to Ryan Houser, an EMT from Morristown, New Jersey. Houser is a volunteer EMT and assistant captain for Morris Minute Men EMS and works to create videos to encourage volunteers and to educate his community. In addition, Houser is a certified firefighter, works on committees to educate and support juveniles, is an EMT for Cedar Knolls FD and Morris County OEM, an Emergency Technician for Morristown Medical Center, and attends Rutgers University full-time. Houser is also an instructor of terrorism response courses, which is important for the Morris Minute Men, as they dispatched two ambulances to New York City on 9/11. Houser works to prepare his colleagues and others for any situation that they might encounter.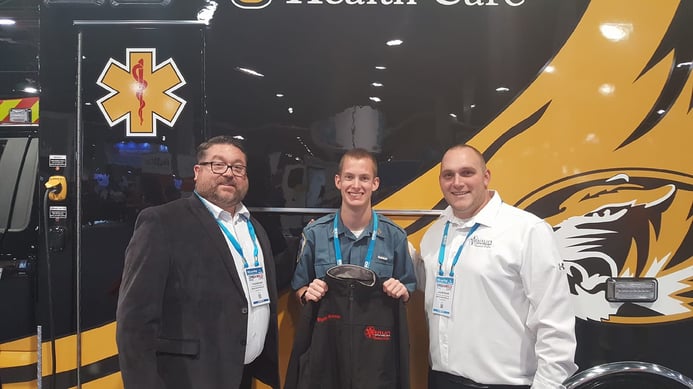 Pictured: Chad Brown - VP of Sales & Marketing, Ryan Houser - EMT of the Year, and Jason Adair - Regional Sales Manager, inside Braun's Booth at EMS World Expo 2017.
Nominees for the NAEMT EMT of the Year Award should provide superior care to their patients in their homes and whilst being transported by ambulance, work to provide positive environments for their peers and patients alike, and be dedicated to continuing their education. Houser's colleague, Kendall Sarson, praised Houser for his works, stating, "Ryan has truly modeled his entire life around helping others, whether patient or peer, and his work as an EMT has become one of the most significant parts of his identity."
Braun Ambulances' Vice President of Sales and Marketing, Chad Brown, was pleased to meet Houser, and said, "It is opportunities like this that remind me - and everyone at Braun Industries - of the important work our first responders do and our commitment to them to keep them safe while doing it." Brown is proud to be part of Braun Ambulances' work to provide EMTs like Ryan with safe and efficient ambulances to work out of. Houser, who is 21, hopes to work in federal law enforcement, become a neurosurgeon, and help advance the field of tactical medicine. Ryan Houser is an exemplary EMT of the year, and Braun Ambulances is pleased recognize his outstanding work.