Each year, Braun Ambulances partners with NAEMT and EMS World to honor EMT of the Year. This year, 2018 National EMS Awards of Excellence recipients were honored during NAEMT's General Membership Meeting on October 30th in Nashville, Tennessee, and on October 31st during EMS World Expo's opening ceremony.
Nominees for the NAEMT EMT of the Year Award should provide superior care to their patients, work to provide positive environments for their peers and patients and be dedicated to continuing their education. Braun Ambulances was honored to present this year's award to Steven Kroll from Delmar, New York.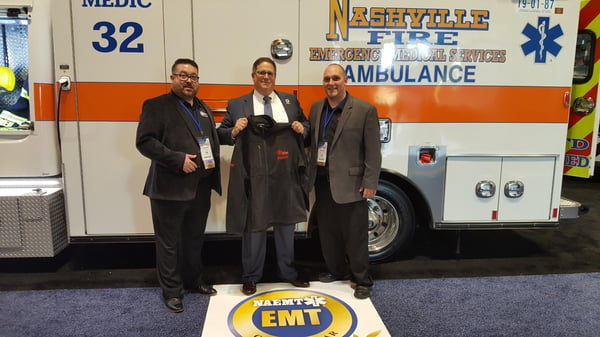 2018 NAEMT EMT of the Year Award Winner, pictured with VP of Sales & Marketing, Chad Brown and Regional Sales Manager, Jason Adair.
Steven Kroll serves as Chief of Delmar-Bethlehem EMS (DBEMS) in New York and has been an EMT since 1982. Steven served as Chair of the New York State Emergency Medical Services Council, which advises the state government on EMS issues, and currently serves on the Executive Board of the Hudson Mohawk Regional EMS Council and Regional Emergency Medical Organization and as Chairperson of the Council's Budget and Finance Committee. Steven has developed a positive work environment at DBEMS by blending career and volunteer staff and has led initiatives to continue development of quality and continuing education to improve patient care and his agency's workforce.
"The value of Steve's leadership cannot be overstated in creating the success of DBEMS and the benefits the agency provides to our community," says Terence Hannigan, EMT. Steven's experience in the field, his knowledge, and his commitment to patient care make him an exemplary in the world of EMS.
"The EMT of the Year Award has long been a part of Braun traditions. Year after year, we love participating as a sponsor to help celebrate the amazing work EMTs do day in and day out," says Chad Brown, VP of Sales and Marketing for Braun. "We are continually impressed by those nominated, with the winners helping to highlight how incredible this profession truly is. We are proud to help honor EMTs through this award and look forward to sponsoring again next year! Congratulations again to Steven Kroll; thank you for serving your community."
Congratulations, Steven!