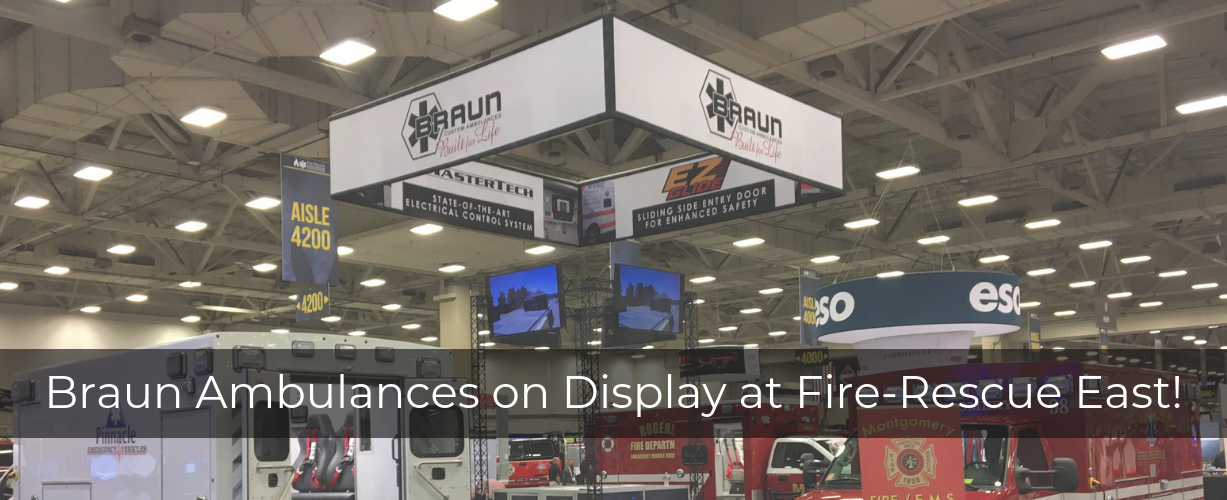 The 24th annual Fire-Rescue East (FRE) will take place January 23-26, 2019 in Daytona Beach, Florida. This conference will be held at Ocean Center in Daytona Beach and includes a symposium, workshop, competition and exhibit portion. Braun Ambulances' dealer, Ten-8 Fire Equipment, will be in attendance with one of Braun's ambulances.
FRE attracts fire and rescue personnel from over 36 states and Canada and has become one of the premier fire and emergency services expositions in the United States. This conference allows officials and members from numerous departments and organizations to meet up and share ideas on hot topics in the world of fire and EMS. FRE 2019 will feature meetings and workshops with topics on reducing the load for first responders, reducing trauma and drama in the firehouse, public safety communications, fire investigations, and animal technical rescue. FRE will also feature a symposium hosted by Florida Public Information Officers (PIO) on communications and providing information to the public.
In addition to workshops and the symposium, FRE will host an ALS/BLS competition and RIT competition. The preliminaries for ALS/BLS competitions will take place at Daytona State College – Advanced Technology College on Technology Boulevard on January 24th; finals will be January 25th at Ocean Center. The Rapid Intervention Team Competition will begin with preliminaries on Thursday and will end with the final competition on Saturday.
The exhibition portion of the conference will be Thursday, January 24th, 3:00 PM to 6:00 PM, Friday, January 25th, 10:00 AM to 4:00 PM and Saturday, January 26th, 9:30 AM to 12:00 PM. Representatives from our Florida and Georgia dealership, Ten-8 Fire Equipment will be in attendance in Booth #1101. They will be showcasing Jacksonville Rescue's Express Plus Type I ambulance, among other emergency vehicles. This ambulance is built on a Chevy C3500 chassis with gas engine. It features a Whelen M-Series warning light package, ProAir 917 AC package, aluminum cabinets, and Braun's exclusive EZ-Glide sliding door. In addition, Braun Industries' Regional Sales Manager, Jarret Hammons, will also be in attendance.
If you're going to FRE 2019, be sure to stop by Booth #1101 and visit Ten-8 Fire Equipment.