As part of the National EMS Awards Program, Braun Industries recently sponsored the NAEMT (National Association of Emergency Medical Technicians) EMT of the Year Award. On August 30, 2011, the award was given to William "Bill" Rise of Milbank, South Dakota. With the award, Bill received $1,000, registration to EMS World Expo, and $1,000 for travel and lodging to attend EMS World Expo and the NAEMT Annual Meeting. Congratulations Bill!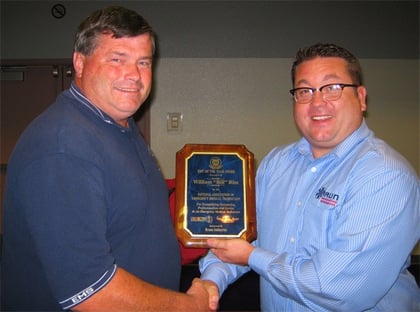 Bill Rise is a volunteer EMT-I with Grant-Roberts County Ambulance Service. He has been volunteering with the department since 1989. He also finds time to serve with the Milbank Volunteer Fire Department and the Police Reserves. He is currently enrolled in a paramedic program to increase his skill level.
Trained as an American Heart Association CPR/AED Instructor, Rise has been involved in coordinating and teaching bicycle safety courses to the public, teaching first aid courses to fire departments, Boy Scouts and 4-H groups, and helps promote safety at other events in his community. He is also involved with the Department of Public Safety, conducting annual child safety seat, seat belt and motorcycle helmet surveys within the county.
Rise has served as Vice-President of the SDEMTA for more than 10 years and has been involved on its various committees. He also volunteers for the Masonic Temple, Elraid Shrine in Sioux Falls, and the Yelduz Shrine in Aberdeen.
Bill is well-known in the community for his outstanding service. His peers had the following to say about him during the NAEMT EMT of the Year Award nomination process.
"By helping educate other EMS providers and the public, as well as promoting safety to everyone, Bill shows his commitment to the care and welfare of the people of his community and the State of South Dakota." - Katheryn Q. Benton, South Dakota EMT Association (SDEMTA) State Training Officer

"[Rise's] dedication and commitment to the EMS profession is beyond reproach." - Assistant Chief Corey Hooth, Milbank Police Department

"Through continual training and hands-on experience, Bill has become a valuable asset to thelocal community," - Duane Tillman, EMT-I, Grant-Roberts Ambulance Service
Congratulations again to Bill Rise on his wonderful achievement as EMT of the Year!