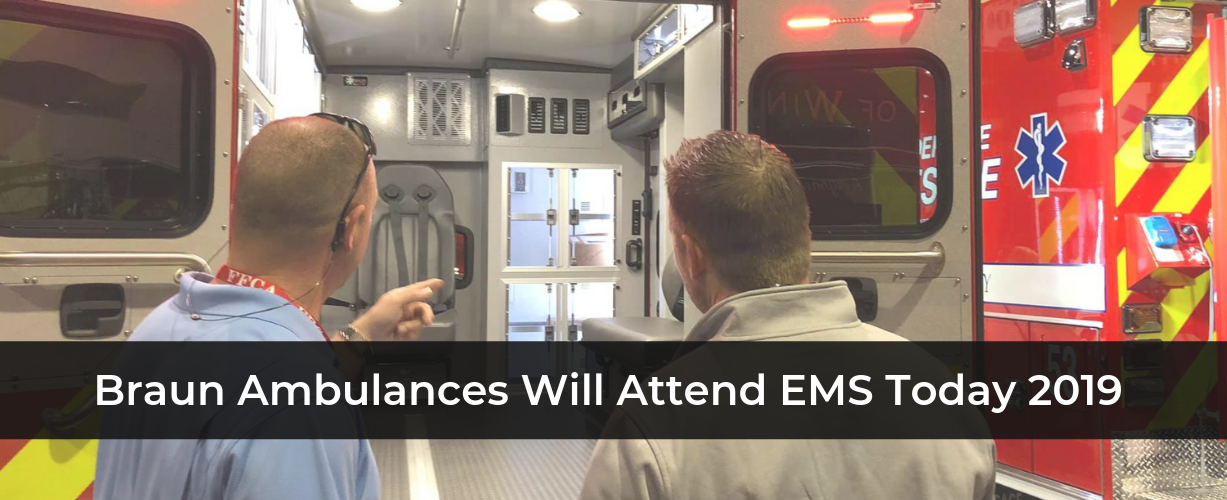 Each year, JEMS (The Journal of Emergency Medical Services) produces EMS Today, also known as The JEMS Conference and Exposition. This year's event will be held February 20-22, 2019 at the Gaylord National Resort and Convention Center in National Harbor, Maryland. EMS Today is one of the premier conference-and-exposition events in the EMS industry, drawing nearly five-thousand EMS professionals from around the world. EMS Today offers numerous hands-on learning experiences, over 240 CEH (continuing education hours) opportunities, and a chance to learn more about the most innovative products and services in the industry.
Ohio ambulance manufacturer, Braun Ambulances, will have representatives from Braun and their dealer partners in attendance. Braun's VP of Sales and Marketing, Chad Brown, as well as Regional Sales Managers, Jason Adair and Jarrett Hammons, will be in Braun's booth. Members from Braun's dealer network will include Chad Holland and Andy Hethington from Spartan Fire, Bob Reilly and Melissa Robinson from North Eastern Rescue Vehicles, Fred Pawelk from North Central Emergency Vehicles, and Don Bloom and Taylor Pease from Penn Care.
Braun Ambulances will be set up in booth #1311 with four ambulances on display! These ambulances will include units from Duke Life Flight, NYU Langone Health, Northern Onondaga Volunteer Ambulance (NOVA), and a Braun demo ambulance. Each unit is a different Braun model and includes Braun's standard safety features in addition to custom features chosen by their customers.
Duke Life Flight will be showcasing one of their stunning new Super Chief Type I ambulances on an International 4300 crew cab chassis. This ambulance is one of three CCT - Critical Care Transport ambulances for the University of Duke. These ambulances are all equipped with Rosco Vision Systems®, Stadco® Cellpac CP 6.5 generators, and EVS custom embroidered seats. These units are also medical air equipped and feature seating for six in the patient compartment; all seated positions are CN 10 compliant. The new Duke Life Flight ambulances also feature custom exterior cab steps, an entertainment system in the patient compartment, custom graphics and the trademarked Duke blue.
NYU Langone Health will be showcasing their new Signature Series Type III ambulance on a Ford E350 chassis. This ambulance features a 150" module equipped with CN 10 compliant cabinets and latches, as well as custom street-side wall cabinet layout and EVS seats that are Change Notice 8 compliant. This unit also includes a multiplex electrical system, a squad bench with second-patient transport, and a custom center console.
Braun will be displaying Northern Onondaga Volunteer Ambulance's new Express Type III ambulance on a Chevy G3500 chassis, which features a 144" module. This unit is equipped with many special features, such as an EVS attendant and integrated child seat with a V4 belt for increased safety and Tremco's emergency vehicle anti-theft system; this will prevent vehicle theft when the vehicle is left running with the key in the ignition. This ambulance also features a Valor EMT Seat on a swivel base, equipped with a 4-point harness. This seat allows for optimal mobility and safety. The NOVA ambulance also features Braun's MasterTech FleetConnect™, the first connectivity platform designed for ambulances, as well as a custom center console and curb-side Vista screen.
Braun Ambulances will also be displaying a Chief XL demo ambulance. This ambulance is a Type I ambulance built on a Ford F450 chassis. It features LED Ridgeback lighting in outside storage compartments and blue Ridgeback LED lighting in interior cabinets. This unit also features a ProAir heating and air-conditioning system, Valor EMT Seat seatbacks and attendant seat, and TecNiq rub rail lights. This demo is also equipped with LiquidSpring suspension and an inventory control system.
These ambulances will be on display in booth #1311 on Wednesday, February 20th, from 3:00 PM – 6:00 PM, Thursday, February 21st, from 10:00 AM to 5:00 PM, and Friday, February 22nd, from 10:00 AM – 1:00 PM.
For additional questions regarding these units or EMS Today, please contact Chad Brown at chadb@braunambulances.com