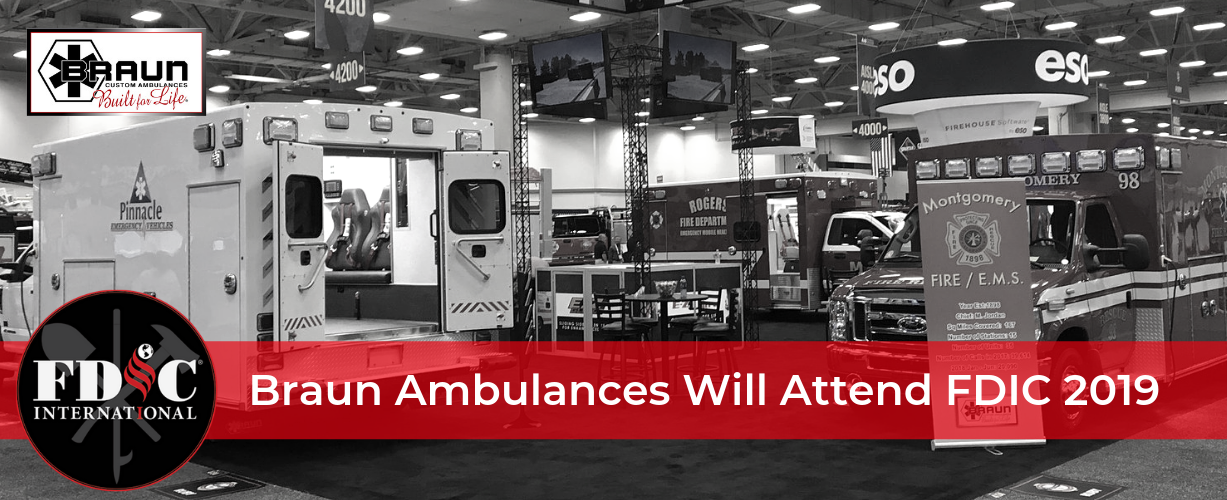 Braun Ambulances is preparing to attend FDIC 2019. Each year, FDIC International hosts over 34,000 Fire & Rescue professionals from around the world. This year's event will take place from April 8 – 13, 2019 in the Indiana Convention Center and Lucas Oil Stadium in Indianapolis, Indiana.
Representatives from Braun Industries and their dealer network will be in attendance for the exhibition April 11-13, 2019. They will be bringing four custom ambulances to display in Booth #4639, along with another completed ambulance for the GM booth.
"FDIC is the largest show we attend annually, and one of the most important for us," says Chad Brown, Braun Industries' VP of Sales and Marketing. "The size of the exhibition, quality of courses offered, and centralized geographic location make it the chief event for Fire & Rescue professionals to attend. We get a lot of booth visitors, helping us connect with customers old and new, as well as prospective customers. We make it a point to bring unique layouts with innovative features to display the full range of Braun's capabilities as the premier ambulance manufacturer. This year, we have an incredible lineup of ambulances and dealer representatives attending. We are also very excited to be located directly next to our partner, Demers Ambulances."
The Ohio ambulance manufacturer will have representatives from Braun direct and their dealer partners in attendance. Braun's VP of Sales and Marketing, Chad Brown, as well as Regional Sales Managers, Jason Adair and Jarrett Hammons, will be in Braun's booth. Braun's dealer partners include representatives from Penn Care, Kodiak Emergency Vehicles, Spartan Fire & Emergency Apparatus, Ten-8 Fire Equipment, Hughes Fire Equipment, North Eastern Rescue Vehicles, Bulldog Fire & Emergency Apparatus, Autotronics, RedSky Emergency Vehicles, Emergency Equipment Professionals, First Priority Group, and Nexus Emergency Group.
Braun Ambulances will be in Booth #4639 in the Indiana Convention Center. There, they will have five ambulance units on display. A fifth completed unit will be inside General Motors Fleet's booth in space #3839.
Two of the Braun display units will be demo ambulances from the manufacturer. Truck #7985 is a Chief XL Type 1 ambulance on an International CV chassis. The exterior of the unit includes a Brigade 360 camera system, edge mount sound off lights, rear chevron lights, Gatorhyde kick plate, rub rails with Whelen strip lights, and Whelen Ion duo intersection lights for extreme visibility. Inside the module are Valor seats, a curbside and streetside Vista Screen, Pro Air 110/120V Heat/AC system, and a Franklin digital clock. The interior cabinet lighting is ridgeback blue LED, and ceiling strip lights change from red to amber on braking and turning. Truck #7986 is a Liberty; this is the first unit being produced on the brand-new Chevy Silverado extended cab chassis. The demo features a LiquidSpring suspension, EZ 02 lift, Pro Air AC with rear headpad air curtain, and more. Inside, attendees will see custom contoured EVS seat backs with the Braun logo, blue/white dome lights, rear door glove holders, and other Braun innovations. Both demo ambulances are available for purchase, along with other in-stock units from the manufacturer.
Homer Fire Department in Homer, Ohio is graciously allowing their Liberty Type 1 ambulance to be displayed. Built on a Ford F550 4x4 extended cab, the exterior features a Federal Mechanical Q siren, wrecker style front bumper, EZ 02 Lift, and electric tint rear windows. The module contains Valor seats, Sigtronics headsets, a Medi-Kool drug storage cabinet, and a cabinet stack at the head of the squad bench.
The last ambulance on display in Braun's booth is from Tampa Fire Rescue in Tampa, Florida. The Super Chief Type 1 ambulance is built on a Freightliner M2. Unique features of this unit include a sound deadening package, ceramic thermal coating, ultraviolet air purification system, and EVS Hi-Bac Integral Child seat with swivel base. With over 73" of interior headroom and LiquidSpring suspension, the ambulance will provide an exceptional ride for occupants.
Meridian Township Fire Department in Okemos, Michigan will show off their Braun Chief XL Type 3 ambulance in the General Motors Fleet Booth (#3839). This ambulance features a G4500 chassis with custom console, along with recessed rear-view camera, interior motion sensor, EVS seating and pads, Hoseline 454 A/C system, and 64" and 86" grab rails. It also has an OTE cabinet and Lucas device storage in the front wall.
Show attendees can stop by Braun's booth #4639 during Exhibit Hall hours. The FDIC International Exhibition is open Thursday, April 11th from 12:00 pm to 5:00 pm, Friday, April 12th from 10:00 am to 5:00 pm and Saturday, April 13th from 9:00 am to 2:00 pm. Individuals that are not attending the show should follow the ambulance manufacturer on Facebook; Braun will be going LIVE from the show floor each day to give followers an inside look at each ambulance on display.
Want to join us? Click below to register and get 10% off!