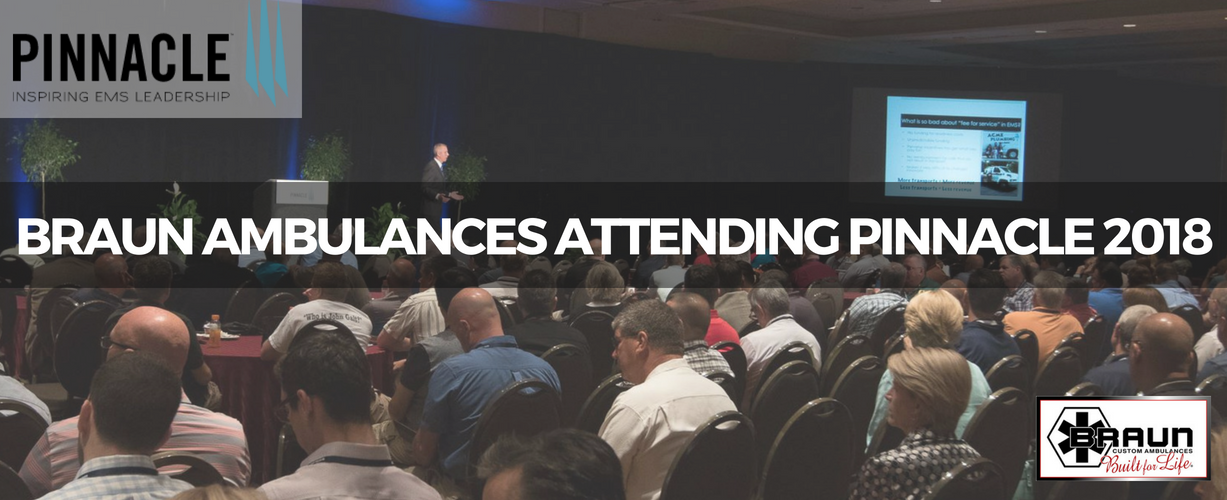 Braun Ambulances will be attending this year's Pinnacle 2018 EMS Conference & Exhibition in Phoenix, Arizona. This will be the first time we will be attending the Pinnacle conference and exhibition, and we couldn't be more excited. The event will take place at JW Marriott Desert Ridge Resort July 23rd-27th, 2018 and feature a variety of seminars, conferences, special meetings, bonus sessions, an exhibition in the Grand Sonoran Ballroom with over 70 exhibitors, and vehicle displays located outside. Braun will be participating in the exhibition portion at booth #30, as well as displaying two ambulances outside.
Pinnacle is a conference and event that allows EMS leaders, various departments, and healthcare leaders to network and learn from others in their field. The event starts Monday, July 23rd with breakfast and a day of power seminars from various speakers and presenters. Tuesday features power seminars on hot topics in EMS, special meetings, and the main conference and opening reception. The main conference events continue through Thursday, with bonus sessions finishing out the day on Friday.
Braun will have two ambulances on display at Pinnacle 2018 – a Braun Factory Demo unit and a custom unit from Gold Cross Mayo Clinic. Braun's factory demo is an Express that features Techniq Chevron strip lighting, EZ-Glide sliding door, mirrored stainless steel on street side and curb side of the unit, blue and white LED dome lights, and MasterTech FleetConnect. The Gold Cross Mayo Clinic unit is a custom Express with EZ-Glide sliding door, new Whelen Surface max lighting, custom layout with no CPR seat for added storage, custom exterior layout, and glove boxes on the street side near the rear of the unit.
Chad Brown, VP of Sales and Marketing for Braun, and Jason Adair, Regional Sales Manager, will be attending the conference. "We are looking forward to our first time showcasing our vehicles at Pinnacle. Our new partner, Demers Ambulances, will also be in attendance and we are all excited to see new and current customers at the show!" says Chad Brown. Chad and Jason will be at Braun's display in booth #30 as well as showcasing the display units outside. This event will be a great place to network and discuss hot topics in the world of EMS, and we can't wait to showcase our units there!