Each year, we host our Annual Sales Meeting for our dealer network. It's a time to gather our partners from around the country and collectively work to build a better brand, while celebrating each other's accomplishments and catching up as friends. The 2014 Sales Meeting was held in Fort Wayne, IN at the Grand Wayne Center on October 14th and 15th.
"Our 2014 Annual Sales Meeting was again a huge success, and the level of engagement from the dealer network was tremendous. This meeting presents an opportunity to share key accomplishments, challenges, industry and product updates, and most importantly, alignment toward achieving our vision. Being recognized as THE premium ambulance producer is accomplished only through the consistent dedication and actions of the partnership between Braun and our dealer network," says Braun Industries President, Kim Braun.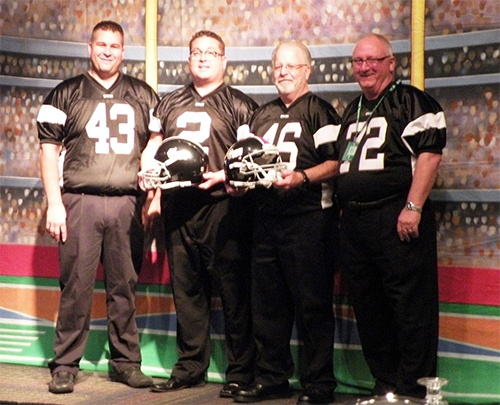 Check out a gallery of the 2014 Sales Meeting on our Facebook Page >>
A sales "theme" is chosen each year for the meeting, with this year's being football. Presentations were centered on PASS, an acronym for Position the Solution – Account Control – Strategy – Sell. Many topics were covered throughout the two day session, with the most memorable being the upcoming 2015 Model Year, a brainstorming session on future products and innovations, and a discussion on customer service feedback and surveys for our Continuous Improvement Process. We had over twenty vendors join us to display their products and answer questions as well. We are so thankful to them, and the over twenty dealerships that attended the meeting!
A highlight of the Annual Sales Meeting is always our Award's Reception. The formal event includes a cocktail hour and dinner, along with an awards ceremony to highlight outstanding dealerships and sales representatives in the Braun network. Here is a recap of this year's winners:
President's Club: Shawn Hunter, Eric Wilcox
Dealership of the Year: Ten-8 Fire Equipment
Dealership Awards: Penn Care, Inc., North Central Emergency Vehicles, Ten-8 Fire Equipment, Fire Fighting Innovations, Glick Fire, Kodiak Emergency Vehicles
Region 1 Sales Champion: Shawn Hunter – Ten-8 Fire Equipment
Region 2 Sales Champion: Andy Heimerl – North Central Emergency Vehicles
Commitment Winners: Bob Reilly, Peter Caliendo, Shawn Hunter, Patrick McFall, Tim Cooper
Congratulations to all of the dealerships and ambulance sales reps that promote Braun emergency vehicles on a daily basis! We are so lucky to have such a dedicated dealer network behind us!