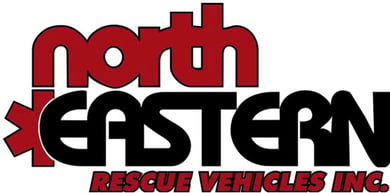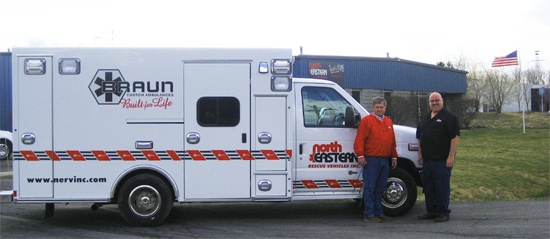 North Eastern Rescue Vehicles, Inc. is our ambulance dealer for the state of New York, except the counties of Nassau, Suffolk, Kings, Queens, Rockland, and Westchester, as well as the state of Vermont. The dealership is located at 10 Dwight Park Drive in Syracuse, NY. They can be reached toll free at 800-553-6094.
North Eastern Rescue Vehicles, NERV for short, is owned by Bob Barnes and Bob Reilly. In 1987, Bob Barnes began selling ambulances and emergency vehicles. Then, he was the President and Chief Operating Officer of Eastern Paramedics of Syracuse, NY. He has worked in the emergency medical services since age sixteen, and is a 3rd generation ambulance salesman. In 1988, Barnes was joined by Bob Reilly, then Operations Manager for Eastern Paramedics. Together, they expanded their territory and looked to develop a more complete and professional sales team to serve their larger customer base. As a result, the small DBA of Eastern Rescue Vehicles became North Eastern Rescue Vehicles, Inc.
With over 65 years of combined experience in the ambulance industry, Barnes and Reilly have worked hard to establish NERV as one of the largest independent ambulance dealers in the country. They are proud to be working with their customers, and consider it an honor to serve them. An extremely qualified staff of 10 salespeople work hard to develop ambulance specifications and designs that best serve an agency's need, while delivering real value. Customer service is paramount to their success and they make sure they are highly accessible by phone and email to ensure their customers can reach them at any time.
NERV strives to be a one-stop-shop for all of their customers' needs by offering ambulance sales, services, and parts. For minimal downtime and convenience, they offer mobile service trucks for on-site repairs. As a Braun Authorized Service Center, they also provide service at their location. In addition, they carry a wide variety of parts in-stock so they are available immediately, when their customers need them most.
North Eastern Rescue Vehicles became a Braun ambulance dealer in August 2011. Bob Barnes had operated Braun's ambulances at Eastern Paramedics and had a familiarity and fondness of the product. As a dealer, they chose to carry the Braun ambulance line because it's very diverse and there is a consistent level of quality. Innovations such as the SolidBody Construction are also important to NERV. They are particularly excited about the new Phil Braun Signature Series model, for departments that are asked to do more with less.
To meet representatives from NERV in person, stop out to booth #4731 at FDIC next month. North Eastern Rescue Vehicles also takes part in the annual Fire Industry, Rescue, & EMS Expo (June 2012) and Vital Signs EMS Conference in Syracuse, NY (October 2012). More information on those events will be posted to the blog as they near.