Important things first... remember to enter our 40th Anniversary Contest! We want you to send us a picture of your Braun ambulance and tell us why you love it in our "Why I Love My Braun" photo contest. The grand prize winner will receive a Motorola XOOM Android tablet! We've extended the contest deadline to August 1, 2012, but we encourage you to enter early so you don't forget.
Also in honor of our 40 years as an ambulance manufacturer, we're taking a look back at Braun Industries over the years. While our ambulances have been involved in many important emergency response efforts, the attacks on September 11, 2001 stands out as one of the most memorable.
Braun ambulance customer, Long Island College Hospital (LICH), deployed five ambulances to the disaster site in New York City immediately following the attacks. By the end of the day, only two of the LICH ambulances made it back to their station intact. The other three units were severely damaged. One had a large dent on the passenger-side cab. Another barely made it back before its motor seized. The last remained at the World Trade Center site, crushed by tons of debris.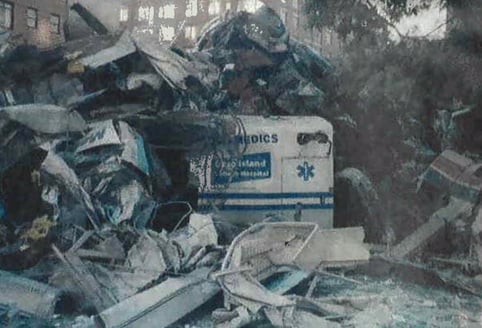 The ambulance destroyed at the city of the World Trade Center collapse was a Braun ambulance. "Although the unit was destroyed when the South Tower came crumbling down, the box of the ambulance remained amazingly intact," said LICH Director Ed Caballero. "If anyone needed to seek shelter in that box at the time of the collapse, they would have been able to survive due to the integrity of the Braun design."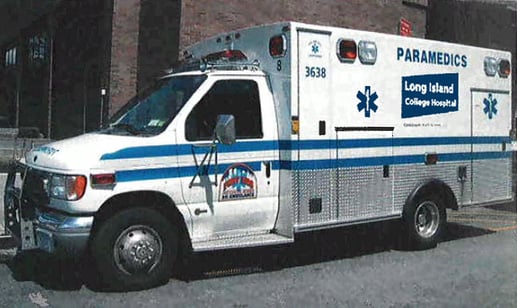 After the event, three of the surviving ambulances were thoroughly cleaned, repaired, and placed back into service. Long Island College Hospital replaced the two fallen vehicles with new Braun ambulances. The new units purchased were 147" Type III Braun Raider ambulances mounted on 2002 Ford E450 chassis.
Details for this blog post were taken from: A. J. Heightman. "Check IT Out." JEMS September 2002: 103.