Show season is in full swing and we're gearing up to head to EMS Today: The JEMS Conference & Exposition. The show is produced by JEMS, a leader in EMS education. Geared towards first responders, the event promises to deliver great educational content focused on timely topics presented by progressive speakers, as well as networking events and a first-class exhibitor lineup.
EMS Today 2015 will be held February 25th through the 28th in Baltimore, Maryland. The Baltimore Convention Center will be host to the educational seminars, as well as the Exhibit Hall. The convention center is located at One West Pratt Street. Our booth will be located in space #2109.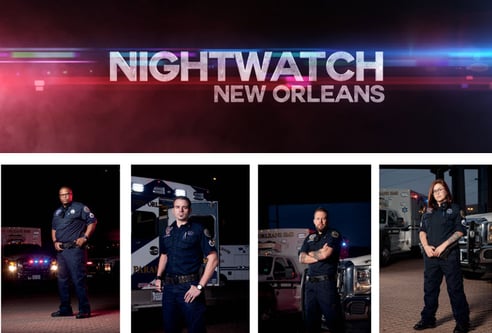 This year, we'll be hosting some very special visitors … and you don't want to miss it! Aside from Braun direct representatives Chad Brown, Eric Wilcox, Jim Ham, and Jerry Jones, the cast of NIGHTWATCH will be there. From 10:00 am to 3:00 pm on Friday, February 27th, visitors can stop by for a meet and greet with cast members Holly Monteleone, Nick Manning, Titus Tero, and Dan Flynn. If you aren't able to attend EMS Today, don't worry! We'll be hosting a special giveaway online for our fans to win some signed autographs - stay tuned for details!
Inside the Braun booth, visitors will also get a peek at the rig the New Orleans EMS crews operate in. We'll have a NOLA ambulance on display; it is a Braun Liberty on a Ford F450 Super Cab chassis. Features include an all-aluminum interior, with a custom designed aluminum console to store NOLA's mobile data terminal, a siren, radios, a wireless keyboard, and flashlights. The box includes a rear module camera and backup camera, along with a GPS feature which has been built into the MasterTech IV Vista Screens. It also has custom mounts for the specific equipment NOLA uses, to make it easier and safer for the crew to access and provide critical care.
Also in attendance at Booth #2109 will be several representatives from Braun's dealer network. Pete Caliendo from Nassau Fire Apparatus will be joining us, along with members of the Penn Care sales team. Chris Woolfolk from Glick Fire Equipment will be there, along with their dealership's demo ambulance. It is a 2014 Chief XL Chevy G4500. The unit is white with unique graphics and a zolatone stripe. It also has all M Series lights, along with all the other great features and innovations Braun ambulances are known for.
For more information on the NIGHTWATCH appearances at EMS Today 2015, check out this article on JEMS.