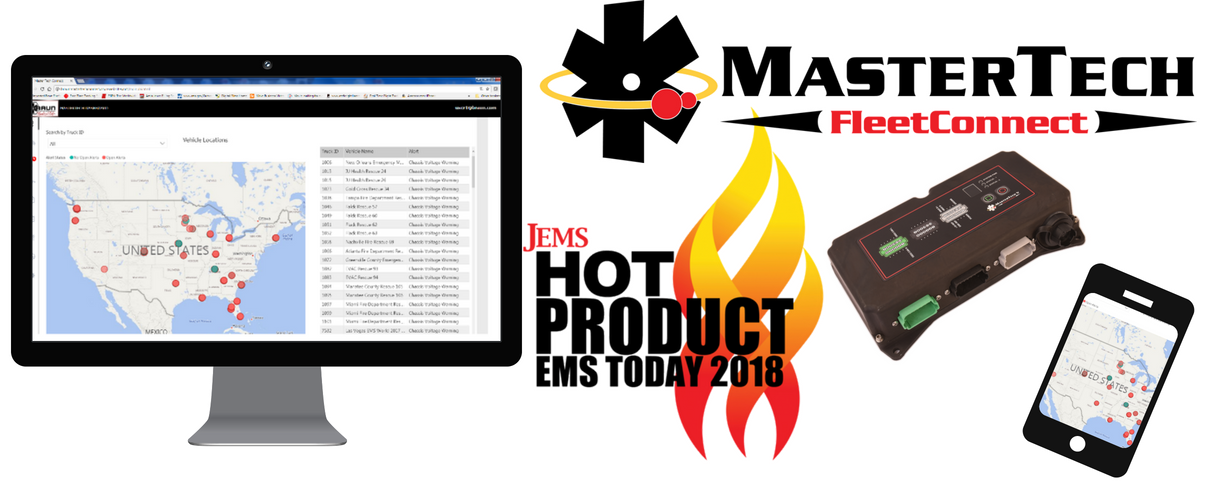 Braun Ambulances was recently honored by the Journal of Emergency Medical Services (JEMS) for our work in creating the first connectivity platform specifically for ambulances, MasterTech FleetConnect. In partnership with IDEX Fire and Safety, we've created a product that is designed to help lengthen vehicle life, reduce unplanned downtime, and empower remote maintenance of ambulances in real-time. MasterTech FleetConnect was named a 2018 JEMS Hot Product.
What is a JEMS Hot Product?
Distinction as a JEMS Hot Product is a notable honor in the Fire & EMS Industry; it is awarded only to products that are deemed innovative and practical. A team of judges selected by JEMS at the 2018 EMS Today Conference and Exposition reviewed 64 product submissions for this year's contest. The judging panel consisted of EMS product specialists, educators, physicians, managers, and paramedics. The group reviewed products that are designed to improve the delivery of optimal emergency medical care from EMS providers while ensuring safety, efficiency and comfort for the patient. Each product was rated on its originality, functionality, ease of use, and need in the EMS setting. MasterTech FleetConnect was one of the products awarded the title of 2018 Hot Product.
MasterTech FleetConnect Makes Vehicles Safer
We created MasterTech FleetConnect in cooperation with IDEX Fire and Safety to make vehicles safer and to make them last longer. For our dealers, the product allows for a holistic view of the vehicles in a given area, giving operators the chance to proactively monitor for vehicle issues and alerts. For those at the municipality level, MasterTech FleetConnect provides 24/7 remote support from the dealer network and from us directly, allowing for the diagnosis of issues remotely. This allows for real-time alerts based on events and issues with ambulances. In addition, all ambulances equipped with the product can be updated remotely, providing ambulances that can be updated in near real-time. This is all made possible by using Microsoft's secure cloud platform. Richard Zak, a member of Microsoft's U.S. State & Local Government team, says that "IDEX Corporation and Braun Ambulances are making vehicles smarter and better able to support the EMS mission."
Our own Chad Brown, VP of Sales and Marketing, says "By making MasterTech FleetConnect available to our customers, it will be the first time they can proactively manage all aspects of their Braun ambulance. It monitors the chassis and ambulance module. This is a big win, whether you are a single ambulance user or have a fleet of a hundred ambulances. We can now remotely dial in to the vehicle, change programming and work to prevent any catastrophic failure by monitoring real-time data."
Our friends at IDEX feel the same way; Jeff Zook, Marketing Manager for Connected Solutions at IDEX Fire and Safety says, "Our goal is to create solutions that increase operator safety and return the most precious commodity in a 21st-century economy back to first responders – time."
As always, a huge thank you goes out to our entire team here at Braun. Without you, we never would have been able to earn this distinction. Keep up the great work!