As the holidays are fast approaching, the phrase "season of giving" reminds us to reach out to others who need us. Here at Braun, we focus on several charitable causes throughout the year locally and nationally. It is very important to us to give back, and we are honored when we can make even a small difference.
In May, during EMS Week 2013, we held a Facebook contest to raise money for the Boston EMS Relief Association. The BEMSRA is a non-profit organization dedicated to providing support to uniformed EMTs and Paramedics of Boston EMS. They serve retired and active members eligible for assistance during financially difficult times in their lives. They also hold an annual awards ceremony to recognize acts of heroism and professionalism from department members who have gone above and beyond the call of duty during the previous year. We found the organization especially worthy this year in the wake of the Boston Marathon bombings.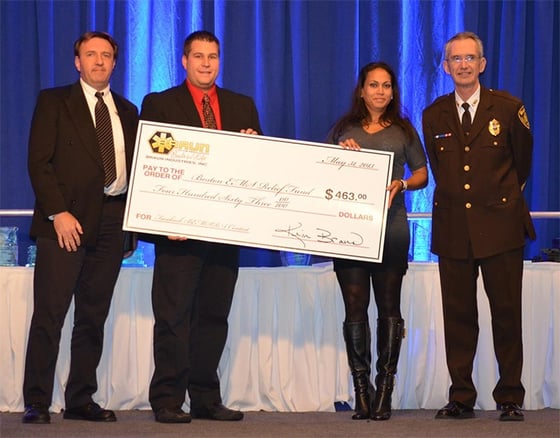 The Facebook contest committed to donating $1.00 to the BEMSRA for every new LIKE received during May 19-25, 2013. In total, we raised $463.00. We had the pleasure of presenting a check to the Association on November 1st at the Annual Boston EMS Awards and Retirement Banquet. Eric Wilcox, Braun Regional Sales Manager, was on hand for the donation. It was such a wonderful event to participate in, seeing Boston EMTs and Paramedics being recognized for their dedication to the City of Boston and the emergency medicine profession. We are thankful to our Facebook fans who joined us in making the donation a reality!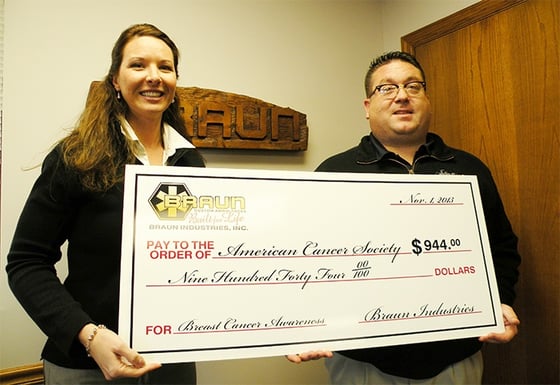 More recently, we held an internal fundraiser in October to support Breast Cancer Awareness Month and the American Cancer Society. Events included casual Fridays - where employees could donate money to "dress down", a 50/50 drawing, and a pie-in-the-face contest. In total, Braun employees raised $944.00 for the cause.
We feel so lucky to have such a philanthropic staff, committed to helping us give back. We are also appreciative of our extended Braun family – customers old and new, Facebook followers, end-users and more – who have made events like these so successful for us.
As we enter the holiday season, we encourage you to remember those around you who could use your help. We also hope you will keep your local EMS providers in mind, for their dedication to serving your community year round.
Happy Holidays!