We're packing up packing up promotional items and emergency vehicles to head to FDIC 2016–the world's largest fire and emergency services training-based conference and exhibition. The Fire Department Instructors Conference will take place in Indianapolis, Indiana April 18-23, 2016. We'll have representatives from Braun direct and our dealerships from around the country in attendance-stay tuned for a complete list of who. Our main booth will be located in Indiana Convention Center space #3665. However, we will also have a unit on display in GM Fleet and Commercial booth #4139. In addition to displaying these models, we also plan to debut our rollover crash test footage.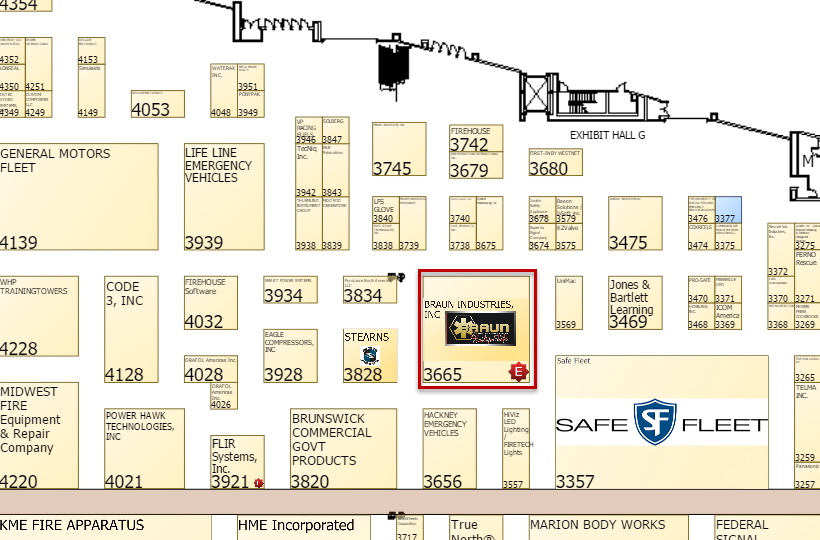 "FDIC is our biggest show each year," says Vice President of Sales & Marketing, Chad Brown. "However, we're really looking forward this one. We'll have four unique customer ambulances on display throughout the convention center and we feel each one shows the safety, quality, and innovation we're known for. In addition, we cannot wait to see the reaction we get from customers and potential customers regarding the crash test footage. It's going to be an exciting trade show and we're looking forward to opening our booth on Thursday [April 21, 2016]."
The three units we've planned to display are from Granville Township, City of Manassass, and Parkview Hospital. We want to thank each of these departments for graciously allowing us to share their units! Granville Township unit #6918 is a 2015 Chief XL Type I. Mounted on a Ford F450 4x4, the ambulance includes a Zico 02 Lift System, custom cabinet console, and cabinet at the head of the squad bench. The City of Manassas unit #6929 is also a 2015 Chief XL Type I. However, it's on a Ford F550 4x4. The module includes a Braun EZ 02 Lift, safety design cabinets above the CPR seat, cabinet at the head of the squad bench, and custom front wall drug storage. Lastly, Parkview Hospital unit #7019 is a 2016 Responder on a Sprinter chassis. The ambulance is a prototype vehicle for Parkview in partnership with Ferno and utilizes the Ferno Intraxx system.
The GM Fleet and Commercial booth #4139 will have a 2015 Chief XL Type III Chevy G4500 ambulance on display from Bloomfield. The unit features OSS#3 gear storage, extended action area, and custom interior cabinet storage.
Along with the ambulance models, we are planning to show ambulance crash test footage inside booth #3665. The two-minute video will be displayed throughout the show on large HD monitors mounted fifteen feet in the air for optimal viewing. It includes highlights from the test we completed earlier this year on a ten-year-old ambulance model. The test was designed to simulate the proposed SAE (Society of Automotive Engineers) J3057 body integrity test; it uses science and data to focus on the modular body and roll impact loading-or how well the box holds up in the event of a rollover. Read more about that in our previous blog.
FDIC 2016 exhibit hall hours are:
Thursday, April 21 – 1:00 pm – 6:00 pm
Friday, April 22 – 10:00 am – 5:00 pm
Saturday, April 23 – 9:00 am – 2:00 pm.
If you're attending the show, we hope you'll stop by and see us!