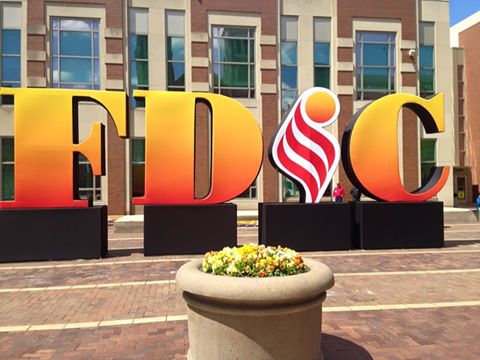 It's finally here! It's FDIC week and we are so excited to get out to Indianapolis to catch up with members of our national dealer network and customers old and new. As a reminder, we'll be in Booth #3665 inside the Indiana Convention Center. FDIC 2016 Exhibit Hall hours are:
Thursday, April 21 – 1:00 pm – 6:00 pm
Friday, April 22 – 10:00 am – 5:00 pm
Saturday, April 23 – 9:00 am – 2:00 pm
As those that have attended FDIC in the past know, it's a great opportunity to see what's new in the Fire/EMS Industry-but it's also a wonderful chance to catch up with friends old and new. From Braun Industries direct, we'll have a large group in attendance. Those going include:
Kim Braun, President
Chad Brown, Vice President of Sales & Marketing
Gary Kohl's, Executive Vice President of Manufacturing Support
Dennis Gallo, Vice President of Quality,
Brad Lichtenberger, Vice President of Manufacturing
Eric Wilcox, Region 1 Regional Sales Manager
Jarrett Hammons, Region 2 Regional Sales Manager
Anita Smith, Administrative Sales Support
Jessica Metzger, Administrative Sales Support
Misty Landwher, Order Review Specialist
Travis Parsons, Sales Engineer
There will also be a host of representatives coming to FDIC 2016 from our dealer network. Check out what dealerships are attending and the individual sales reps joining us below:
Emergency Equipment Professionals
Jeff Kuntz
Brian Lee
Rob Cartee
Doug Glick
Kelly Baumgartle
Chris Woolfolk
North Central Emergency Vehicles
Fred Pawelk
Steve Larson
Andy Heimerl
Don Bloom
Taylor Pease
Tony Crum
Mike Bowman
Patrick McFall
Pinnacle Emergency Vehicles, LLC
Spartan Fire & Emergency Apparatus
John Love
Robby Fore
Chad Holland
Cindy Morgan
Wayne Stowell
Mark Jones
Tim Outlaw
Stacey Abraham
Guy Binion
David Bartley
Shawn Hunter
John Fucci
Ron RIbbens
Mike Swann
Joe Hoffman
Doug Burns
We will have three ambulances on display in our booth. There is a Chief XL Type I from Granville Township, a Chief XL Type I from the City of Manassas, and a Responder from Parkview Hospital. There will also be a Chief XL Type III unit inside GM Fleet and Commercial booth #4139. You can read more about these units in our last blog post here.
This year, we're really looking forward to trying something new as we use the tradeshow to debut footage from the industry's first rollover ambulance crash test. The two-minute video will be displayed on large HD monitors mounted fifteen feet in the air for optimal viewing – and FDIC attendees will get the exclusive first look. For those that are not attending the show, we encourage you to register for our email newsletter here. We will be sending out a special email after FDIC that includes the crash test video. To read more about the crash test debut, check out this past blog post.
We hope to see you at FDIC 2016!